Message from the Principal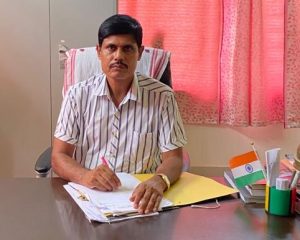 It is great and memorable moment for the people of Dalgaon as well as for people of Darrang districts as the dream project of RUSA and Govt. of Assam, establishments of a Pandit Deendayal Upadhyaya Adarsha Mahavidyalaya, a Model Degree Science College has become a reality. The initiatives of the Government of Assam will go a long way in turning this region with low gross enrollment ration into a center teaming with great potentialities.
It has been a dream of the nation for quite some time to spread higher education to every nook and corner of the land and establishment of this college is a proof of this commitment to the cause. It is my great privilege to announce that Pandit Deendayal Upadhyaya Adarsha Mahavidyalaya, Dalgaon has enrolled its first batch of students for the session 2017-18 for HS First Year (Science) and B. Sc. I Semester Classes. The infrastructure of this college is about to complete. Hence on behalf of the college family, I would like to welcome all deserving students of the region to get enrolled in this college and be a part of this historic initiative and participate in our march towards excellence. I would also like to invite the guardians, general public of Darrang districts, NGOs, Industry & other stakeholders to visit this college and enrich it with suggestions. We are very much hopeful that, in near future, this model college will provide world class science education to the students of this educationally backward area. And we are committed to keep this promise made.
Dr. Lakhi Prasad Hazarika, MSc,  MPhil, PhD
Principal, PDUAM Dalgaon
Governing Body of PDUAM Dalgaon
| | |
| --- | --- |
| Position | Name |
| President | Dr. Sachindra Sahariah, Retd. Associate Prof., Mangaldai College |
| Principal/ Secretary | Dr. Lakhi Prasad Hazarika |
| Member (VC's Nominee) | Prof. J. C. Kalita, Gauhati University |
| Member (VC's Nominee) | Dr. Kamala Kanta Borah, Principal, Mangaldai College |
| Vice Principal (Ex – office Member) | Dr. Pranab Kalita |
| Guardian Member | Mr. Ratul Das |
| Guardian Member | Mussabir Hussain |
| Guardian Member | Mrs. Junmoni Sarma |
| Teacher Member | Dr. Mahmuda Khannam |
| Member, Non-Teaching Staff | Samiran Kumar Sahariah |